Our History
Raised in the heart of bourbon country, we grew to value what was storied, tested and enduring. The traditions of our upbringing taught us the value of honest, hard work and the pride that's earned by creating something with your own two hands. After meeting in college, we began our creative journey with the simple idea that, like grandpa's luggage and dad's time tested belt, all leather goods should last a lifetime.
We are honored that you discovered C&C. We hope that while exploring our site you will, like many before you, decide to allow one of our products to become a part of your story. It is our mission to create goods that, like a barrel of good Kentucky bourbon, only get better with time.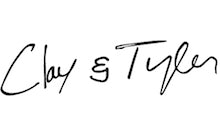 Our Values
Tradition
We believe in timeless designs and durable construction. We find inspiration in our heritage and the traditions of those who came before us - traditions that honored the ability to craft something exceptional and enduring by hand.
Community
We believe in the power of people. The encouragement to work in an environment we love, surrounded by people who believe in what they create, in a city we're proud to claim as home. We're always looking for opportunities to become more involved in all the important, exciting happenings here in Louisville.
We seek to support local non-profits by offering on-site leather working activations, and by donating to neighborhood causes whenever possible. We encourage our team to participate in local networking events and to invest their time into opportunities that allow giving back.
Innovation
The desire to find new and improved solutions for existing products in our lives is what drives us to create. Adding quality, beauty and functionality to our everyday carry is a constant, yet rewarding, challenge.